Raw, cooked, dry and wet food are generally consumable by dogs. In this article, we will provide some guides on what are the necessary nutrition that your pups need, the suitable ingredients to look for and to avoid, food brand suggestions for small pups, and how often, much and how long you should feed your puppy.
Please remember not to feed your dog with food that is using low graded ingredients because it will put your puppy's life at risk.
Raw food
Raw foods aren't meant for all types of dogs, as raw food is highly for protein. Therefore, dogs who are currently at it's last-stage of kidney failure or severe liver failure, cancer on chemotherapy, or immunosuppressive disease should not eat raw food. If your dog is has pancreatitis or other digestive issues, it is recommend to start with a cooked, homemade diet and clear up the problems before switching to raw. Puppies aren't good candidates to eat raw either.
So, what dog breeds are able to eat raw food? Breeds like racing greyhounds and sled dogs have eaten raw food for long, therefore their body system is used to eating raw food/ meat. We don't recommend pups to eat raw food/ meat because their body might not be used to it as there are bacteria on raw meat which small pup's body might not be capable for.
The benefits of eating raw would be
Having shinier coats
Healthier skin
Cleaner teeth
Higher energy level
Smaller stools
The risk of eating raw would be
It will become a threat to human and dog health from bacteria in raw meat
Unbalance diet might damage the health of dogs
Potential for whole bones to choke an animal
Breaking its teeth
Cause an internal puncture
Types of raw food that dog can consume
Bear in mind that, if your pups is allergic to any food that has been listed down below, please don't continue to feed them. If so happens that the allergic reaction has started, please bring your pups to the nearest vet ASAP. The symptoms when your pup is allergic would be
Itching
Itchy paws
Hot spots
Skin rashes
Vomiting
No appetite
Pigmented skin
Leathery skin texture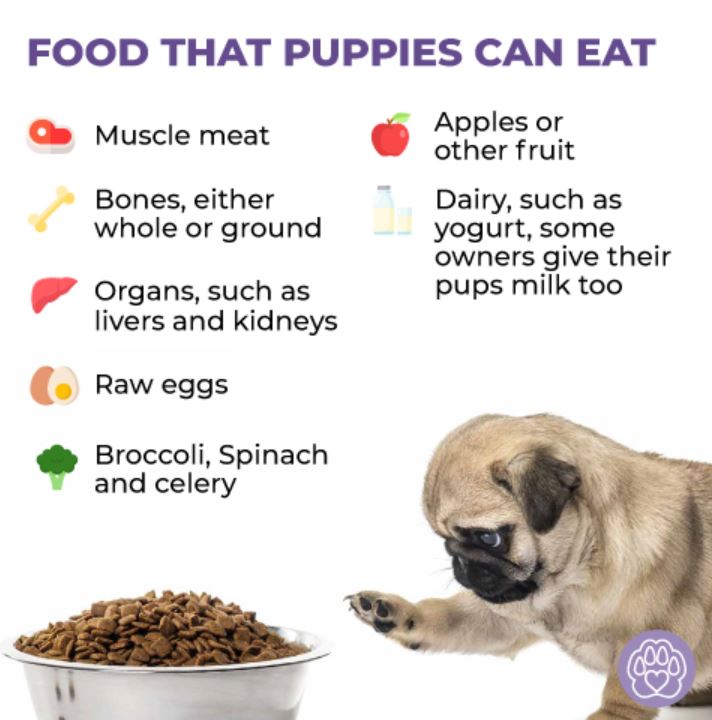 Cooked Food and Homemade food
Cooked and Homemade food are suitable for pups as their body is growing. It is important that they get the necessary nutrients that they need and ensuring that the food is cooked so that their stomach won't get upset. Here are some dishes that you can make for your fellow partner.
The benefits of cooked food and homemade food are
Your pup's will get the necessary nutrients that they need

There won't be added chemical and colour

There won't be preservatives
It is clean and safe to consume
The disadvantages of cooked food and homemade food are
If you are not aware on the ingredients that your pup is allergic to, you might be putting its life on risk
An allergic reaction might take place.
Unsure of what are the ingredients that dogs aren't able to consume
How much and what nutrients that your pup actually needs
1) Japanese Bento
All you have to do is boiled all the ingredients together, and place it on to your pups bowl, and give it a good stir and shake. There you go ! A Japanese bento can now be served.
Ingredients needed : Spinach, Carrots, Peas, Ground chicken, Zucchini and Brown rice
2) Crockpot Food
It is the easiest way to prepare your pups food, all you have to do is prepare all the ingredients and chop it into small pieces . Later on, put it on the slow cooker for 30-40 minutes. Reminder: use sturdy veggies that stands up to the heat (and extra cook time)
Ingredients needed : Brown Rice, Kidney Beans, Ground Beef, Butter squash , Carrots and Peas
3) Salmon Day
There's nothing else but a salmon day, it is simple easy but yet it is complicated when it comes to frying the salmon, you don't want to burn your partner's salmon, don't you. First of , cut the broccoli, peel the carrot and cut squash. Mix it together and steam in rice cooker or bake in an oven. Air fry potato shavings after pouring one tablespoon of olive oil in an air fryer or place in an oven. Pan fry the salmon in 1 tablespoon of olive oil with skin on . Start frying it skin down on the pan at a medium temperature. After flipping, pull of crisp salmon skin off both peices of salmon and place it onto the dog bowl. Once everything is finished, mix all together in the dog bowl and let it cool 20-25 minutes before letting your pups eat.
Ingredients needed : 2 tablespoon of olive oil, 1 squash , 3 potatoes , 2 carrots, 2 salmon , 1 head of broccoli (with stem)
4) Thanksgiving Day
Well....it isn't really Thanksgiving, but it has turkey ! This dish is made with 100% natural, human-grade ingredients and the lean, ground turkey and veggies are sure to be a hit with your pup. Instead of adding olive oil, you can add in Safflower oil, which is added to help give your shine to your dog's coat and provide needed fats for a healthy diet. Before making your own meals for your dog, remember to consult your vet about the nutrients that they need and what are the food they can't eat.
Ingredients needed : 2 pounds lean ground turkey, 1 cup cauliflower, 2 tablespoons raw turkey or chicken liver , 2 tablespoon of olive oil / 1 tablespoon Safflower oil (either one) , 2 medium carrots and 1 cup broccoli florets
If you do not have any spare time to cook for your pets, there are several companies who does home cook food for dogs, you are able to check out the companies websites to find out more details.
Dry food
Eating clean and healthy has become more important to us, numerous of people are now more aware that processed food can adversely affect our health. Many of us starts insisting our love ones - family and friends to eat healthy and clean, but what about our pets? Have we thought of what is the best dry food for our dogs ? Here are some of the brands that are recommended by owners.
1) For sensitive skin
If your dog has a sensitive skin, these are the brands that you can take into consideration
Advance Sensitive Skin
Royal Canin
Hill's Science DIet
Zignature
Breeds like Golden Retrievers, Pomeranians and Bulldog, there are likely more to develop skin rashes, and many common dog food brands might contribute to this, with food colouring, preservatives and low graded ingredients. When ingested this manner, it will contribute to skin issues. It comes with variety of flavours and quality is ensured, so that your pups are able to stay rash-free.
Price: $42.38-$86.83
2) For weight gain
If your dog has a need to gain weight, these are the brands that you can take into consideration
Adirondack
Taste of the Wild
Solid Gold
Ziwi Peak
We might be familiar to the campaign called #adoptdontshop , which is a campaign that encourage people not to shop and buy for dogs, but to adopt one. When adopting a dog, they might not be in a very good condition, one of the condition would be underweight. Overfeeding can lead to health problems and behavioural issues, which is not a good option. Underweight dog should be fed regularly with nutrient-rich food that contains healthy fats. Taste of the wild consist of high calorific content, tasty, healthy ingredients, your four- legged friend will be gaining those necessary pounds in no time.
Price: $20.15-$68.04
3) For allergies, ear/yeast infection
If your dog has allergies, ear/yeast infection, these are the brand that you can take into consideration
Canine Caviar
Canidae Grain Free
Wellness
Nutro
If your pup is having any allergies, it might be because of the previous dog food that they eat, ingredients such as grains, common meats and filers can cause your pup to have dry skin, bald spots, ear infections, vomiting, and they will look tired all the time. After changing your pup's food to these brands your dog will not only get a delicious meal, but also it won't spend the rest of the evening scratching itself in awkward places.
Price: $44.56-$61.74
4) For sensitive stomach
If your dog has sensitive stomach, these are the brand that you can take into consideration
Blue Buffalo
Canidae Pure
Nulo
Natural Balance
As they are getting older, you might be able to notice little accidents in the house, this is because they have eaten dog food that consist of ingredient that is affecting their stomach , but don't worry it can be switch to a better diet. These brand products cut out cheap, unhealthy fillers that is often found in other dog food brands. Not only eased sensitive stomachs, but also generally improved the dog's health.
Price: $16.74-$22.99
5) For shedding
The shedding of the puppy coat will usually take place around the age of 4 to 6 months, depending on the dog's breed. There are some breeds that would shed very quickly, which results in a dramatic change. These are the brand that you can take into consideration
Hill's Science Diet
Orijen
Crave
Annamaet
Price: $23.7-$57.99
Wet food
The main thing to look at are the ingredients. This is much more easier with wet food than dry food, dry food needs many more supplemental ingredients to ensure the food is nutritious and preserves well. Wet food is canned so it doesn't have that problem. Tips : When you're looking for wet food, look for whole foods with specific names. For example, when it states "Chicken" you can picture a chicken, but if it's "poultry", you will probably think that it is a duck, goose, a turkey etc. If they aren't specific enough with their ingredients, there's a high chance that they're hiding something from you.
Here are some suggestions of wet food, that you can feed your pups without having to worry the problems above.
1) Wellness Complete Health Natural Wet Canned Food
It is known as the best wet pet food at 2019. The ingredients that they used are, chicken, broth, salmon, sweet potatoes, ground barley, carrots, canola oil and flaxseed. Wellness use real-food, quality ensured ingredients, so you know your puppy is getting the best, so they are able to develop strong bones, muscles, organs and healthy teeth.
It consists of
9% minimum Protein

7% minimum Fat

1% maximum Fibre

41.2 kcal/oz
Price: $33.85, pack of 12
2) Hill's Prescription Diet (Dental issues)
Many dogs come into new homes with previously-diagnosed dental issues. We understand that kibbles might not be a viable option for this fury kids. Therefore, we have found out that Hill's Prescription Diet is helpful if your buddy has an oral injury, it is extremely soft and digestable, they won't strain themselves neither injure their mouth when trying to chew harder textures.
It consists of
44.2% Protein
30.4% Fat
15.4% Carbohydrate
1% Calcium
Price : $3.24/ can
3) Blue Buffalo Homestyle and Family Favourites Recipes
Blue Buffalo was inspired by their own dog, Blue, and her need for proper nutrition. They use natural, high quality ingredients that are needed to have bounds of energy. Fruits and veggies like sweet potatoes, carrots, berries etc are nutrient rich and delicious. It is specially formulated to promote muscle growth and development for a strong, smart pup.
It consists of
10% minimum Protein
7.5% minimum Fat
1.3% maximum Fiber
41.2 kcal/oz
Price: $57.99/ pack of 12
4) Nature's Variety Instinct Grain-Free Canned Dog Food
This product is grain-free and you won't find any unnecessary fillers to weigh your puppy down. With this food, your puppy will have a nutritious diet to help her grow up big, strong and smart. It also comes in other protein, such as beef, duck, lamb, salmon, chicken and even rabbit. You are able to switch the flavours alternately so that your puppy won't get bored with the same old food every day.
It consists of
11% minimum Protein
6% minimum Fat
3% maximum Fibre
41.5 kcal/oz
Price: $29.94/ cans of 6
5) Canidae Life Stages
Canidae keeps your puppy feeling full and satisfied after every meal. The used quality, whole ingredients and never use corn, wheat, soy or chicken by-product meal. This is also a good choice for puppies with food sensitives, since the only protein sources are chicken and chicken liver. The main ingredients include chicken, chicken broth, chicken liver, brown rice , sunflower oil , guar gum etc.
It consists of
9% minimum Protein
6.5% minimum Fat
1.5% maximum Fibre
32.5 kcal/oz
Price: $35.88/ pack of 12
6) Natural Balance Ultra-Premium Wet Dog Food
This recipe assures high digestibility with no artificial flavours or colours. It includes balanced omega-6 and omega-3 ratios to support healthy skin and a smooth, silky coat for your pups. They have ingredients such as beef, beef broth, beef liver, carrots, brown rice, potatoes and canola oil. If your pup is a beef lover, your puppy will surely love this recipe.
It consists of
8% minimum Protein
5% minimum Fat
1.5% maximum Fibre
31.6 kcal/oz
Price: $20.11/ Size (12) 6 oz cans , $21.99/ Size (12) 13 oz cans
What ingredients should be avoided and what we should look for
These are the ingredients that you should look for and avoid when you're purchasing any form of dog food for your pups, and it is important to know what are the ingredients that your dog are not capable of, as it will lead to many health issues in the future.

How many times you should feed your puppy and puppy feeding schedule
It might be your first time taking care of a puppy, here is a picture to give you a rough idea on how many times you should feed your puppy and a puppy feeding schedule, at what time you should feed your puppy.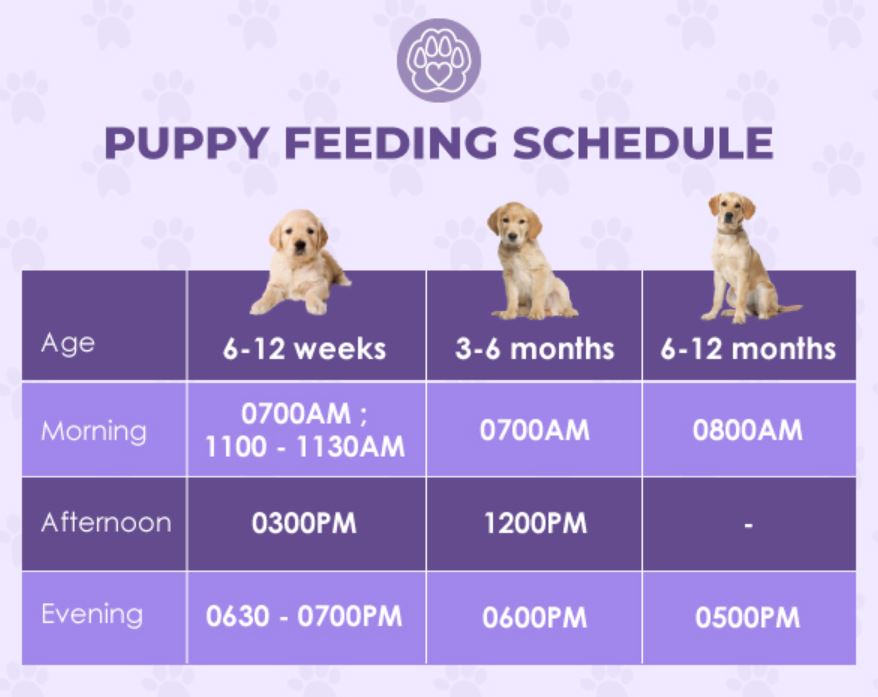 After a guide on
How to choose the right pet food
What to look for and avoid
How many times does your puppy needs to be fed
Puppy feeding schedule
Here's another blog that teaches you how to train your buddy and when you should take them out for a leash.
In conclusion, it is very important to understand how your pups works, invest your more money on dog foods that are quality ensured. You pay for what you get, and if the price of the dog food is cheap, paying a visit to the vet oftenly is what you will get in return. Hence, don't put your dog's life in risk.