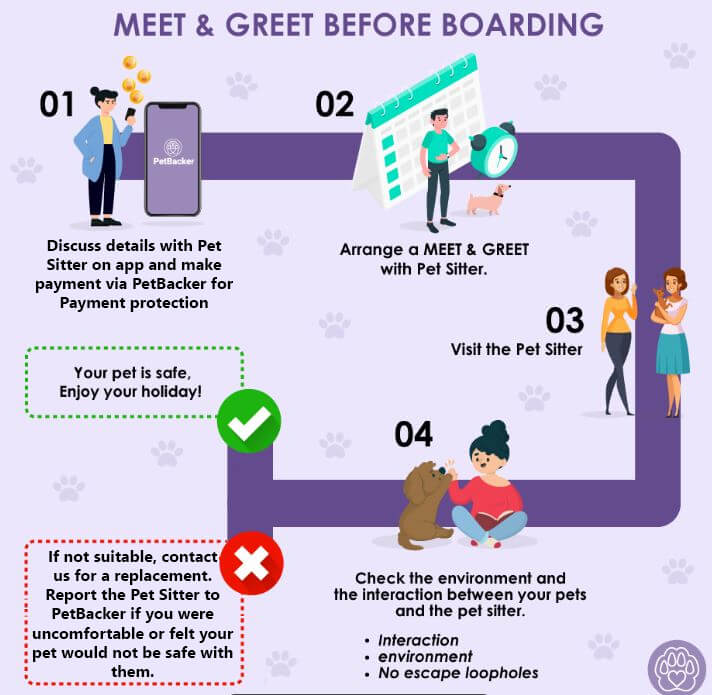 PetBacker's vision is to build a pet loving community with transparent reviews system that helps pet owners to decide which pet sitter to engage by going through their reviews, as well as implenting best effort security and safety measures such as meet and greet before handing over their pets to the pet sitters combined as well as fully refunding the booking payment if the sitter is not suitable after a meet and greet. On our platform we have accumulated necessary details about pet owner's dogs / cats such as
What type of pet is it
What breed is it
What is the size for your pet
Additional information that you would like to inform the pet sitter
By having the above questions asked, sitters are guarantee that they won't have to take care dog breeds that are aggressive. Without a doubt, owners have their concerns as well, not only monetary concern, but also the safety of their pets, as it will be taken care by people whom they do know of beforehand.
[blockquote font="1"]First and foremost, we would like to convey our deepest condolences for the lost of Lexi, as pet lovers ourselves we understand how you feel. We would also like to apologize for you having a less than perfect experience with the pet sitter. The incident occurred on the 20th of August 2019 but PetBacker was not notified of the incident, instead our social media team was only aware of the incident from a comment on social media that they were aware of in last year, October, 2 months after the incident occurred, after which we took immediate action on the same day to suspend the pet sitter from our platform to protect other pet owners.[/blockquote]
To avoid problems like the above, we have increased our security and awareness of every single job that has been requested. If any situation has ever happen to you, please contact our customer support immediately. Here are the actions that we have did, to ensure both sitters and owners are being protected.
Verified Reviews and Badges
PetBacker is also used by pet owners as a source of truth when researching pet sitters, even pet owners who found the sitters on other platforms, as we have "verified" reviews on the platform, even for listings that have been "reported" for a period of time for transparency purposes. PetBacker also lists the type of dogs or animals belonging to the pet sitter for owners to consider the compatibility of their pets before sending their beloved pets to the pet sitter. We also continue to alert and inform pet sitters not to handle two types of breeds at the same time and if necessary, they must be extra vigilant when the pets are in their care.
Badges on the other hand gives you an indication of how trustable and experienced a sitter is. Badges shows how many repeated users there are, how many jobs they have completed or how responsive they are, which altogether paints a general image of how trustable and responsible a sitter is.

View more reviews
Premium Insurance
Premium Insurance is not only a guarantee towards pet sitter, but also toward pet owners. As pet owners, they are able to know from PetBacker's FAQ that, certian breeds are not covered by premium insurance, for pet sitter, they do not have worry about they have to take care of aggressive dogs.
[box title="PetBacker FAQ - Who is excluded?" box_color="#9b88b8"]
Service User pets with existing medical conditions or are aggressive by nature - this is why it's important to get as much info as you can on your Service User pet before booking!
Service User pets which are defined as Dangerous Dogs by the relevant authorities and all claims arising from the care of such Dangerous Dogs such as Pit Bull Terrier, Basset Griffon Vendeen, Tibetan Mastiff, Mastiff, American Staffordshire Terrier, Bouvier des Flandres, Leonberger, Toy Fox Terrier, South African Boerboel, Bulldog (American). This list extends to any cross breed of Dangerous Dogs by the relevant authorities.
Pets younger than 8 weeks or older than 10 years.
The pet sitter's own pet is not covered for any damage or injuries that may be sustained during a PetBacker booking
Commercially run Boarding Kennels
Pet Sitters who have any criminal convictions in past 5 years (excluding traffic violations).
Bookings with Pet Sitters who have pets of a different type from Pet Owners e.g. dogs and cats, dogs and rabbits
Pet Sitters who are not offering services exclusive to PetBacker e.g. also offering services on Facebook, Craigslist and other competing platforms as it would be unable for us to control or verify the number of pets received.
Reference Link: Who is excluded
[/box]
We also hold the pet sitter's service fee on behalf of the pet owner until they receive their pet safely. Our free premium injury insurance also ensures the best treatment for the pets in an unfortunate event. Most importantly we also request a digital copy of the ID of the pet sitters before they are allowed to offer services to ensure the sitters are accountable for any issues that occurs to pet in their care.
We believe these processes and security measures are important in comparison with owners engaging sitters from social media or classified ads without any insurance, ID verification, or proof of job experience. As such, many users continue to use PetBacker as they have peace of mind that their pets will be well taken care of.
Pet Training
We will be providing professional dog training, which consist of group training, advanced training, obedience training, protection training, agility training and training for competition. Great introductory class with competition level trainer that teaches you how to communicate with your dog with basic skills. These classes will also address problem-solving, socialization, and other common problem behaviours.

[blockquote font="3"]Dog trainer will give advice on the suitability of your dog for advance training, number of session will be discussed.[/blockquote]

We will continue to improve our platform and processes and appreciate your feedback for us to build the best community of pet lovers with enhanced safety and security measures.