Places To Go With Your Dog In France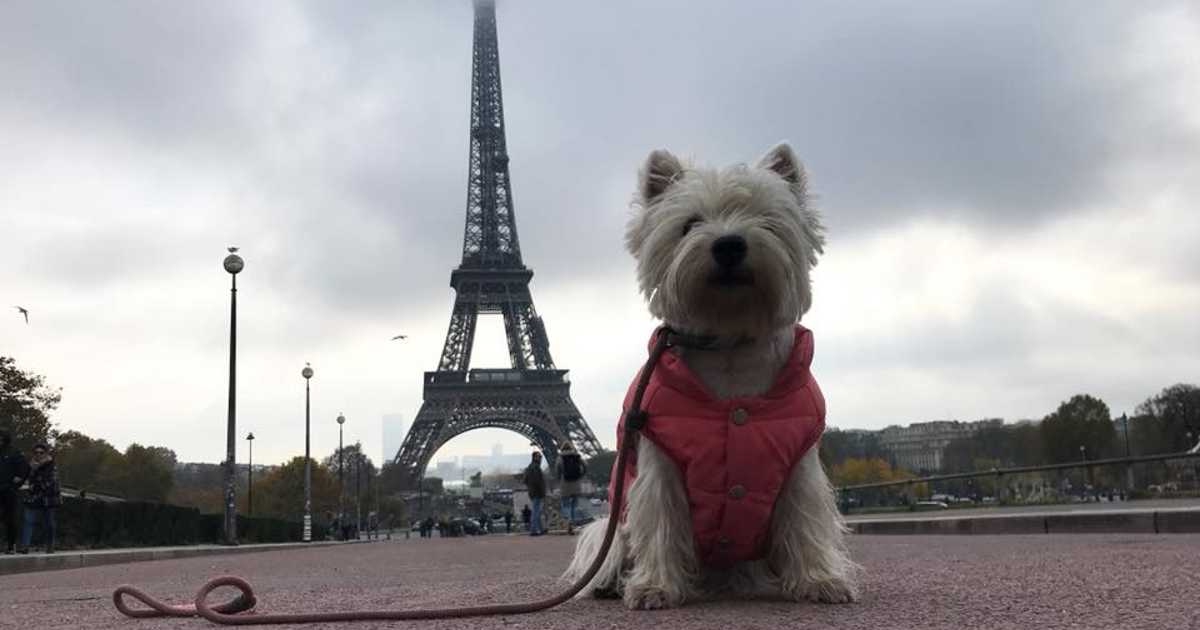 Apart from the Eiffel Tower and romance, France is also well-known for being incredibly dog-friendly! Nothing can beat experiencing France while having your dog together with you. Sure, the idea of traveling with your dog may sound scary but in all honestly, it is incredibly easy. With the right preparations done, you'll start to feel excitement and not fear in no time. With this said, why wait? Take the chance and travel to France with your dog now! Here are 5 places you should go with your dog in France.
Dog Friendliness
France has been rated the most pet-friendly city for some time. You can definitely expect your dog to be treated well when in public. Dogs are usually allowed in restaurants. However, you should always ask beforehand out of courtesy. But even if the restaurants do not allow dogs, there will usually be a sign placed in front of the shop. With the condition that your dog is kept in a bag or container, they are allowed on public transport as well! 
Rules and Regulations
However, there are rules that you have got to follow! France isn't without rules, so it's important that you follow them to keep yourself out of trouble. Ironically, France actually have very strict rules when it comes to allowing dogs on parks. Up until recently, many parks in France do not actually allow dogs. And even now, most parks aren't exactly open for dogs just yet. One way to know is to look out for signs. There will usually be signboards indicating whether the park is dog friendly. You can also try asking the locals about their rules. 
When it comes to public transport, small dogs are allowed on all platforms. However, they are needed to be placed in a bag or container. Big sized dogs are only allowed on the metro and RER (train). They would need to be on leash and muzzled. 
One of the bigger headaches when it comes to traveling with your dog to France is the paperwork needed for your dog. Just like other European countries, your dog would need to have a microchip certificate as well as a vaccination certificate. Make sure that you have all the paperwork needed 1 month prior to your flight! You would also need to get an EU health certified from their local veterinarian within the first 10 days upon arrival. 
With the rules out of the way, here are the 5 places you have to bring your dog in France! 
1. Alsace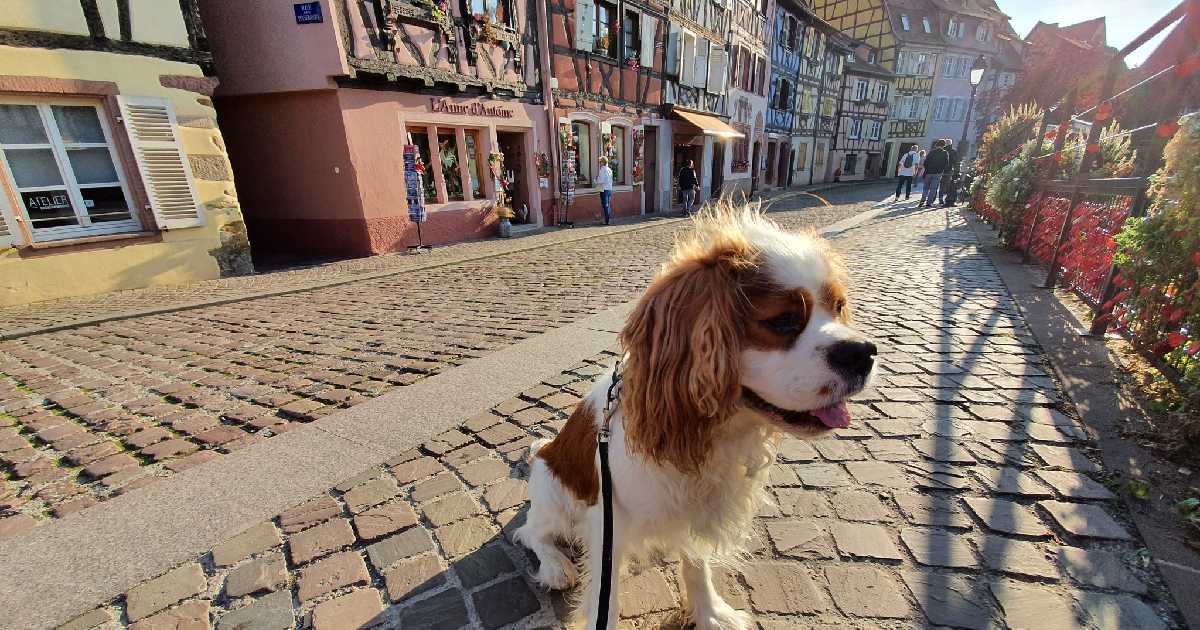 One of the most beautiful known region of France, Alsace is a must to visit. Sitting right at the German border, Alsace too have some German influence over it. Thanks to this, the town is packed with beautiful traditions of both sides, making it an incredibly beautiful town to visit. 
Bring your dog to Colmar city and head down to the Fishermonger District where it is well-known for its well-preserved town. With its flowing river and bright colors from the flowers, it look something straight out of fairy tale. There is nothing better than to soak in this cultural beauty than to wander around with your dog! 
2. Paris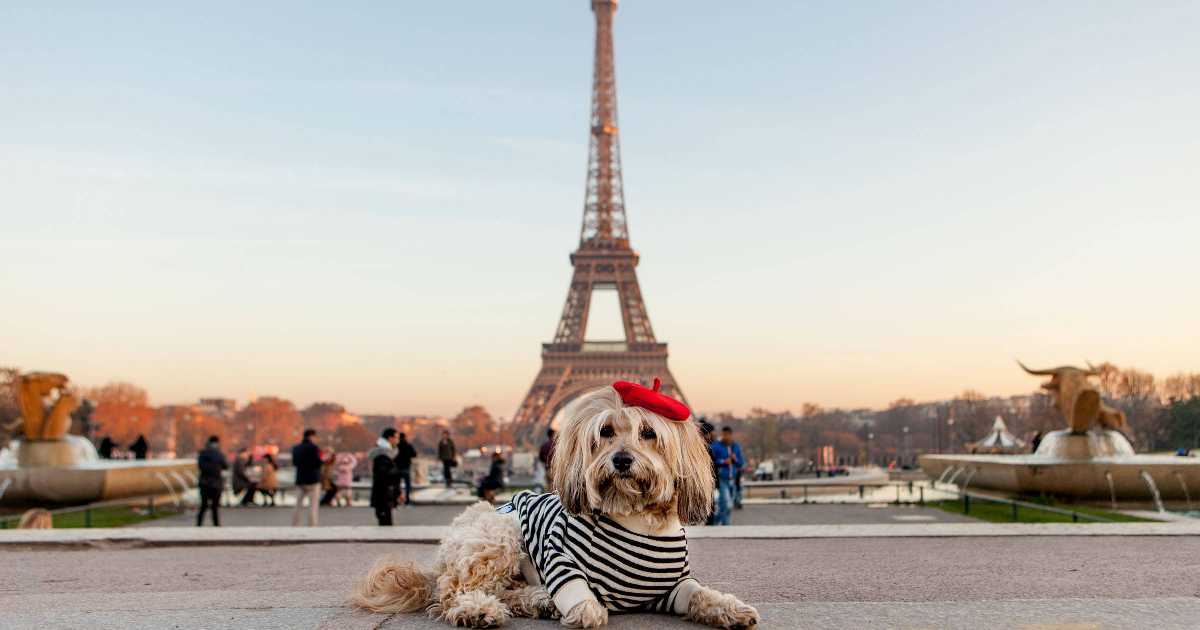 Paris is undoubtedly the one location you have got to visit when in France! In the capital city of France, take a stroll along the river banks of Seine. Starting from the home of Notre-Dame, start your little walk course from Île de la Cité. Make your way slowly to the park at the base of the Eiffel Tower. This is the perfect course for you to sight see with your dog! You'll be able to catch most of the major attractions in Paris. You can even go off stretch to visit places that you find interesting for some pictures. 
Upon reaching Notre-Dame, you can take a 15 minutes walk to Luxembourg Gardens. There is also a route that passes in front of the Pantheon where you are able to get a glimpse of ancient Roman architecture. Like many parks in France, the dog rules are unclear. But when it comes to the Luxembourg Gardens, dogs are allowed! There is even a dog route provided for you that has a dog fountain made available. With this said, don't be surprised to find other dogs there too!
When it comes to the Eiffel Tower, make your way to Champ de Mars (Field of Mars) that is directly underneath the tower. This is where most pups will be at to play around. You can first visit the Trocadero, a bridge that overlooks the Eiffel Tower where you can take the most iconic pictures with your dog! From there, wander through the fountains and make your way towards Champ de Mars. You can even set up a picnic and enjoy the scenery while your dog runs around!
3. Carcassonne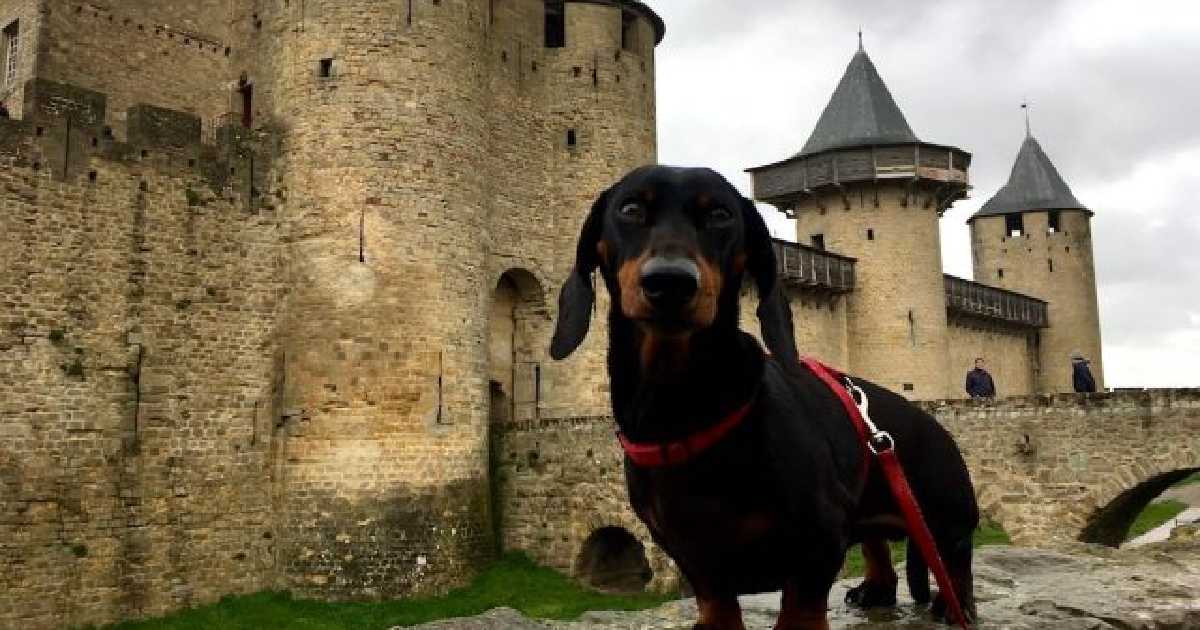 If you are into medieval architecture and more fairy tale vibes, this place is perfect for you! This Instagram worthy town not only offers scenic beauty but also a variety of dog friendly activities for your dog to enjoy as well. 
You can set up a picnic with your dog at the Lac de la Cavayere, a 40 hectare man made lake. If you're feeling sporty, you can also hike up the hills to Cité Médiévale and cross the 300-meter Pont-Vieux bridge. 
You can also visit the Cite de Carcassonne where it lies one of the most well-preserved medieval fortress. While you can't take your dog in, you can walk around the fortress to take pictures. You can also make your way to the cobblestone streets to explore with your dog. Don't hesitate to try some local food while you're there!
4. Lyon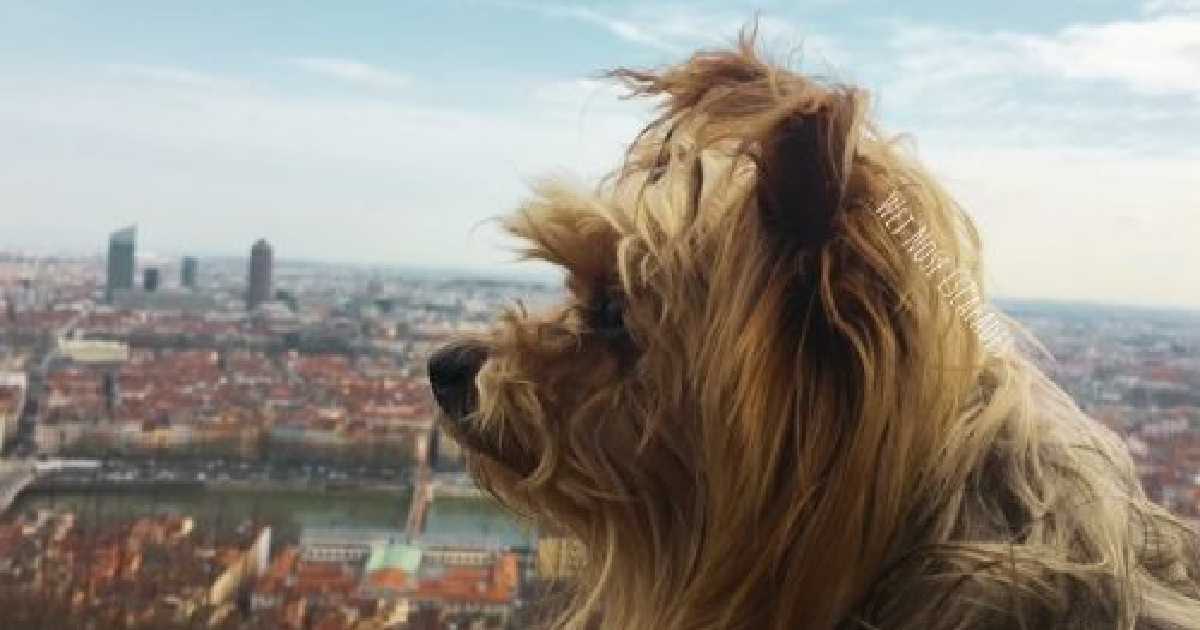 Lyon is well known for good food and fine dining. So get your tummy ready! If you are into gothic architecture, try visiting the Basilica of Notre-Dame de Fourviere. Built on top of the Fourviere Hill, you can almost always catch a glimpse of this large architecture from anywhere in Lyon. Unfortunately, dogs are not allowed to enter into the building, but they are free to roam around outside. So get your cameras ready! 
There are also some dog parks in Lyon that you can visit with your dog. You can catch the sunrise at Lacroix-Laval Parc. From there, you can walk to the Place Bellecour, an open square where your dog can roam around, and you can play some games with your dog too! If you ever get hungry or thirsty, there are also dog cafes nearby for you to have a look around.
If you want a larger park, visit the 117 hectare Parc de la Tete d' or the 8 hectare Parc des Hautefeuilles. Don't be surprised to find other pups running around in these parks! Feel free to socialize with other dog owners since your dog would most definitely socialize with other dogs. 
5. Nice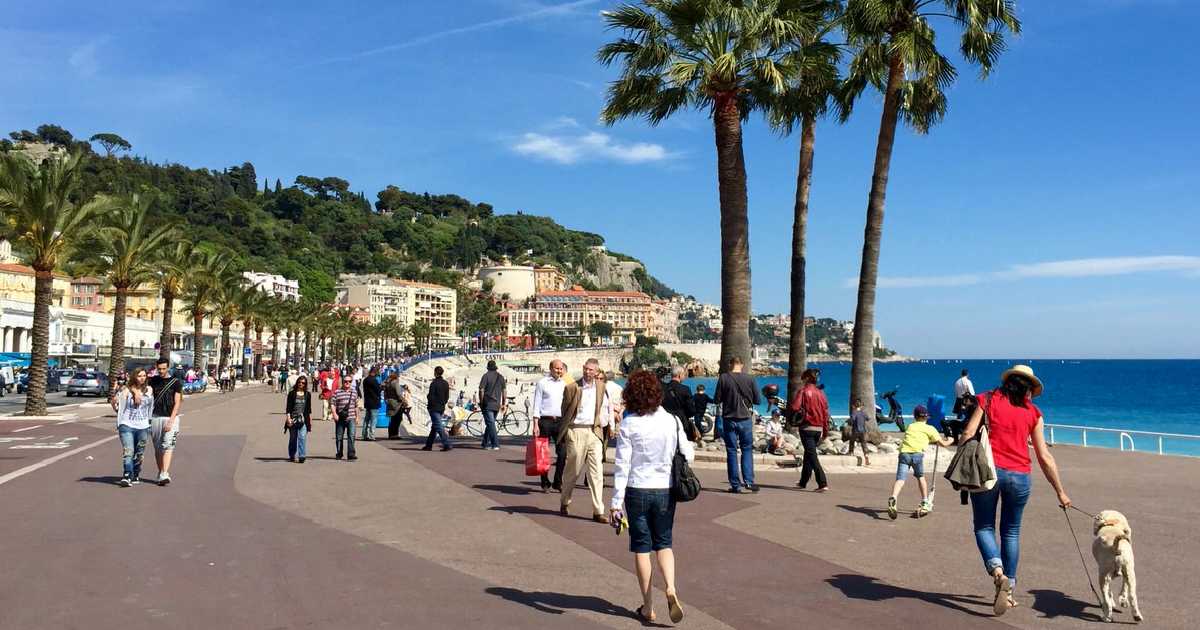 This place really do live up to its name with fifty percent of hotels here are pet-friendly! You can easily pick one with views overlooking the city. You can bring your dog to Promenade des Anglais, a seaside location along the beach. This location is also where many events would be held in Nice, the Nice Carnival being one of them. If you want to catch a glimpse of these vents, do your research beforehand! 
With these said, France is an incredible place to visit with your dog! It is home to some of the world's most famous and beautiful architecture. And what else could beat having to experience this beauty with your dog beside you? If you ever need more information, pay PetBacker.com a visit! It provides many other useful information for pet lovers. If you ever want a quick appointment for a pet sitter or pet boarding, PetBacker is the right place for you!