Before signing up a dog training class, here's some information to help get you started
Learn how to set up an obedience training, by setting a basic foundation before you begin to train your dog
Train your dog using games, it's easier to train and learn when there's something fun, so try implementing games into your dog training section
Using positive reinforcement, most dog professionals agree that is the best way to train your dog
Types of dog training
3 common types of training
Private Training
Group Training
Board and Train
Dogs of all ages can be trained. Bear in mind that, if your dog is suffering from certain injuries or health issues, they aren't suitable for training as it will worsen the situation, injuries and health issues that owners need to take note of
Arthritis
Difficulty in breathing
Heart Issues
Hip Dysplasia
Lung Issues
Training reinforcement
When it comes to training, there are three types of reinforcement trainers might use, which owners has to understand how these types of reinforcement works
Positive
Negative
Mixture of both
Positive reinforcement
It is self-explanatory and is mostly understand by people, which means teaching dogs what they should do using rewards. A result from 2004 showed that dogs trained with more rewards showed higher levels of obedience, and dogs that trained with more punishment exhibited more problem behavior. Using positive reinforcement, dogs were less likely to show aggression and fear than dogs trained using punitive methods.
Negative reinforcement
Which people thinks that is must be all about teaching dogs what they must NOT do, using corrections. But that's not the case. Negative simply has nothing to do with the final effect on the dog's behavior. It doesn't mean something that is unpleasant for the dog, and teaching the dog not to do things. It simply means that the trainer has removed something that the dog was experiencing it before.
Owners might find it hard to believe that anyone would do this to a dog, but this reinforcement has been used extensively in retriever training in the US for several decades. Trainers apply pain to the dog, in the form of an ear pinch or toe hitch, and end the application of pain when the dog complies with their requirements.
Purpose of training
There are many purpose for owners who train their dogs, as well as when they show behaviours like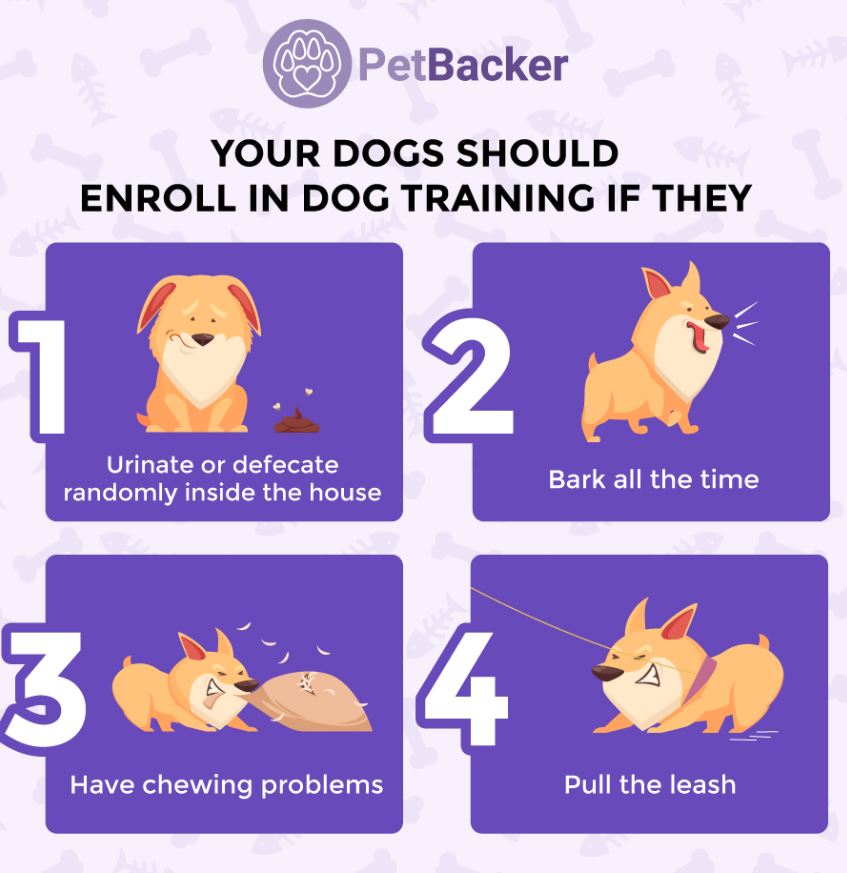 Competition
There are many dog sports, which has a broad range of activities that may be included under the term. Many sports have human interacting with dogs to give instructions such as obedience trails, herding trails and sled dog racing. Training allows them to have higher metabolism, stronger muscles to win the game !
Behavior
Everyone wants a well-behaved dog. Training like these enables them to stay well behave at home, such as
Not to bark at all times
Keep your dog from begging for food
Teach them not to jump all the time
Humping and Mounting
Stop them from howling
Protection
Protection are like armed dogs, guard dogs or even military used, who is trained to protect its owners or towards the society. German Shepperd and retrievers are commonly used, Belgian Malinois has proven to be one of the most outstanding working dogs used in military service.
What will be provided during trainings
Different types of trainings provide different lesson or class, here's what each type or training provides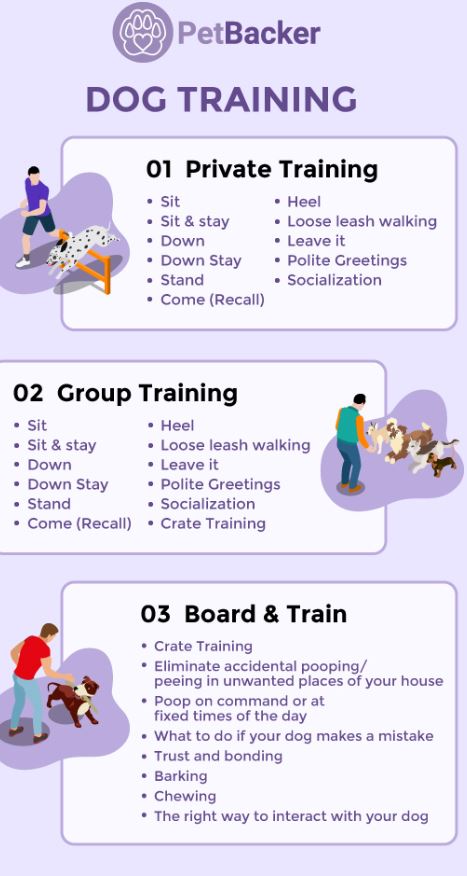 Are you ready to pay?
As an owner, you love your buddy, don't you ? There's time where they don't listen to you when you give a command the first time, second or even third , or being aggressive when they're on a leash, or gets anxious when other dogs are around. Dog training is an excellent option for all these situations. But professional training costs money, which might be a concern for owners. How much does dog training cost? Well, it depends.
As an owner you will have to be there when training takes place
Different types of training costs
Private dog training
Private classes usually offered in-home or at the trainer's facility. You'll work with the trainer on the specific skills that you would like your buddy to learn. You'll be taught about how to read your dog's cues as much as they'll be learning how to sit, stand and hand. Private dog training is suitable for dog's who aren't capable of group training due to certain behavioural issue, or owners would like trainer to have full attention towards their dog.
Cost : The average price of it comes up to $45-120 per session . In San Francisco, $125 per session is the going rate for private training, and $175-$400 in New York City.
Group dog training
Public training aka group dog training approximately consists of 10 dogs and can work on variety of different things from basic sports to agility. Some common group classes for elder dogs are dealing with aggression and anxiety , they even have classes for new comers which learn new tricks and scent work. It is a great way for both dogs and owners to socialize while your kids are learning.
Cost: Group dog training typically cost much lesser than private session, the average price per session would be at $30-$50 per session. There are special training for difficult dogs
Board And Train
Board and train simply mean boarding + training. Where dog owners who have minimal time yet wants to train their pet, board and training is surely what they're looking for. A pet can be dropped off for a day and picked up in evening, which known as day training or placed with a program for a series of days or weeks for them to learn how to behave. Not all pets are suitable for boarding, before sending your pet for boarding, be aware of the facilities that they provide.
Dog training is an ongoing process and you'll still need to continue teaching your pet when they come home
Cost: Two weeks of boarding and training start around $900 and it goes up from there
What to look for in a dog trainer
Just as important as the cost, it is much more important for owners to find a dog trainer that uses science-based, positive reinforcement techniques. There are dog trainers who still use aversion techniques like choke, shock collars, pin collars and other alpha training tools. Be sure to get clear with your trainer on what tools and techniques that he is going to use to train your dog.
Benefits of Dog Training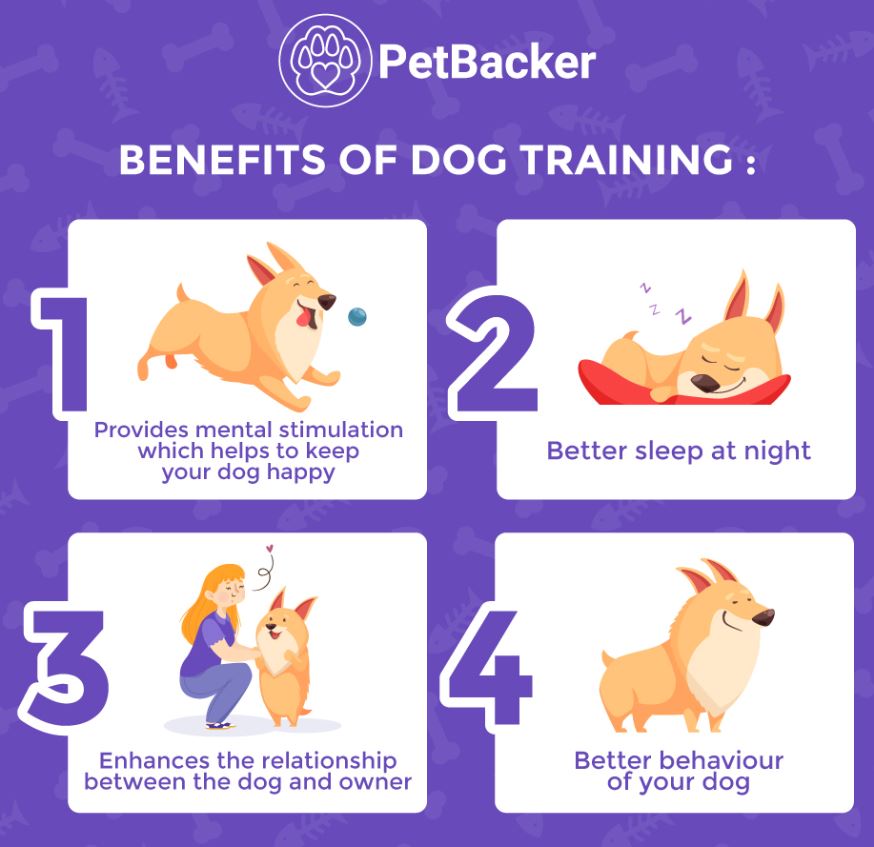 Be wary of anyone that claims that they able to train your dog in just a couple of weeks. Take into consideration about the alternatives available to you and consider a local class or private training (one to one) with local trainers, Before sending off to school, choose a trainer that is registered with APDT(The Association of Professional Dog Trainers)