Spend time with your babies in these beautiful London parks. It may be a busy concrete jungle, but London has plenty of green spaces for you and your dog to explore together. Both on and off lead exercise are super important for the health of your pup, so why not check out the top 15 London parks that you and your pet can visit ?
Top 15 dog parks in England
1)Battersea Park
2)Greenwich Park
3)Hyde Park
4)Hampstead Health
5)Victoria Park
6)St James Park
7)Prior Landscape Park
8)Crystal Palace Park
9)Martello Beach Holiday Park
10)Hoburne Holiday Park
11)Lake District Park
12)Northumberland Park
13)Alexandra Park
14)Richmond Park
15)Cotswold Wildlife Park and Gardens
1) Battersea Park
Situated about three kilometres south of Hyde Park Corner, Battersea Park is considered by many to be the most interesting of all the London Parks. An inner city park with so much variety, hidden secrets, and activities that you can play with your dog. If you're single, you may take into consideration to come to this park, who knows, maybe your pubs might help you to find the love of your life.
Address : Battersea Park, Battersea Park SW11 4NJ
Opening time: 8am until dusk

Access to park facilities: park gates open 6.30am to 10.30pm

Price : Free of charge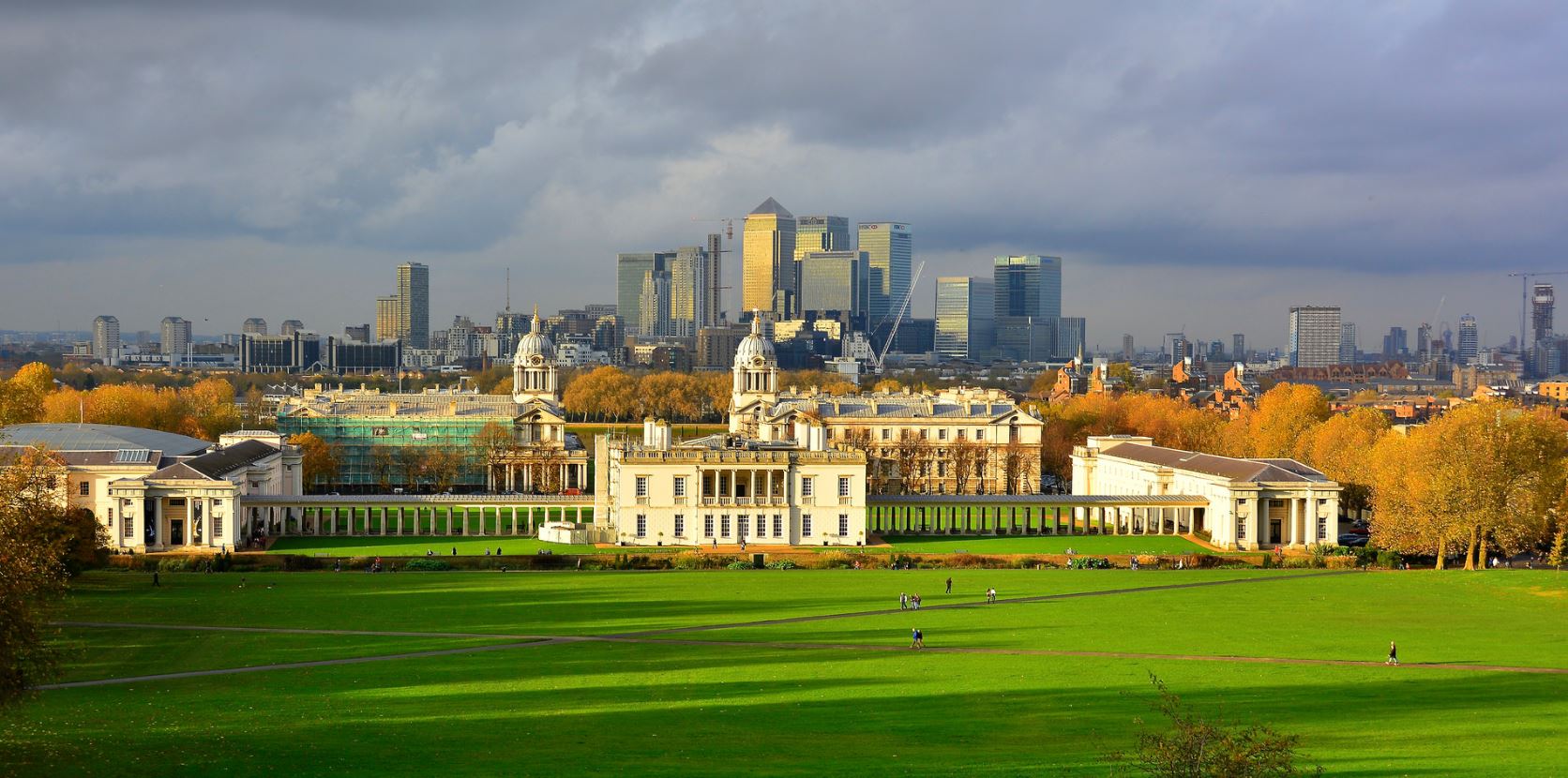 2) Greenwich Park
Greenwich Park is a former hunting park in Greenwich and one of the largest single green spaces in south-east London. One of the Royal Parks of London, and the first to be enclosed, it covers 74 hectares, and is part of the Greenwich World Heritage Site. You are able to have a picnic here with your pubs, as well as letting your pubs to socialize with other pets.
Address: Greenwich, London SE10 8QY, United Kingdom
Time: Opens at 6am and closed at 7pm/8pm or 9pm , depending on the season

Price: The park is free. You can stand outside the gate and see the meridian, or pay 10 pounds to enter the observatory.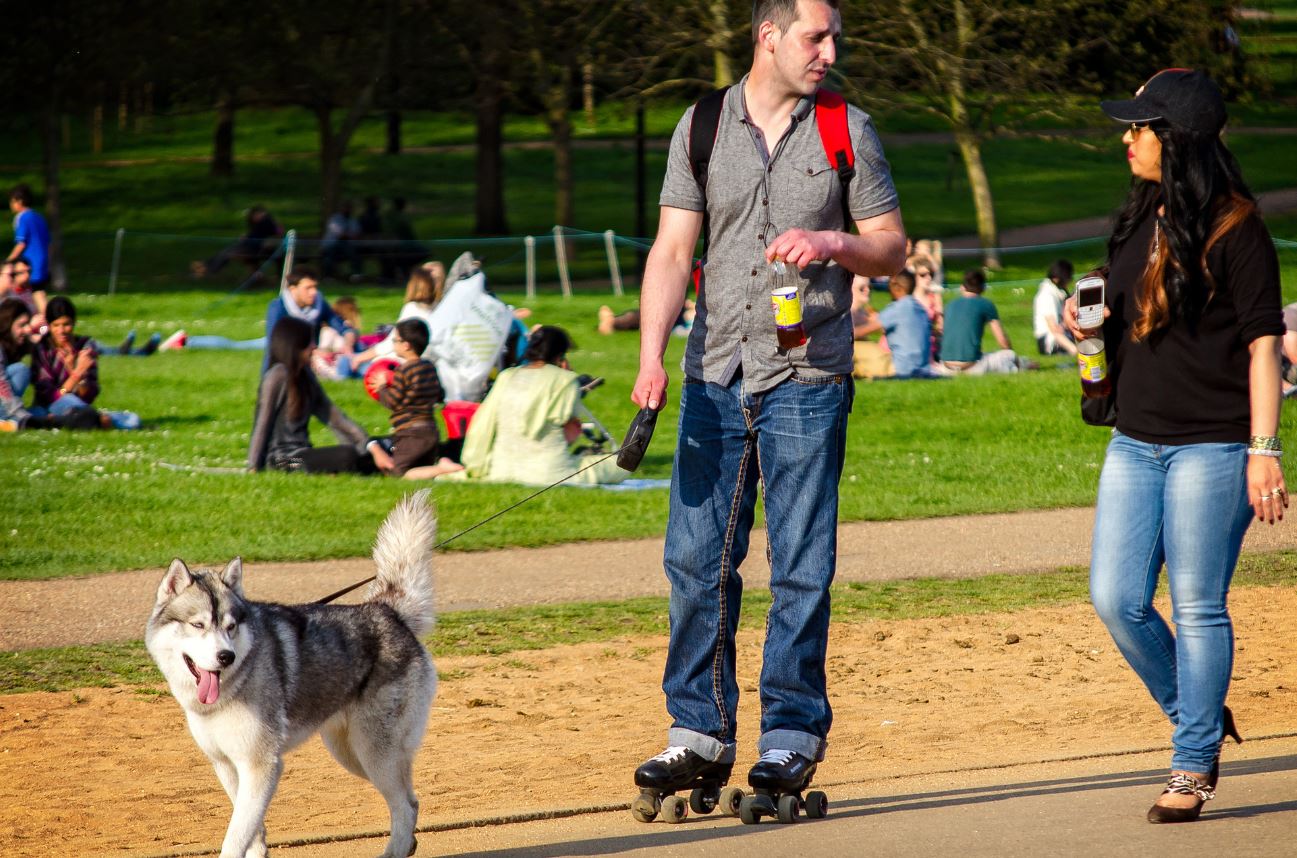 3) Hyde Park

Hyde Park is a Grade I-listed major park in Central London. It is the largest of four Royal Parks that form a chain from the entrance of Kensington Palace through Kensington Gardens and Hyde Park, via Hyde Park Corner and Green Park past the main entrance to Buckingham Palace. At this park, you and pubs can enjoy the beautiful scenery, having a slow walk, as well as meeting new friends.
Address: London, England
Time: 5am until midnight
Price: Free of charge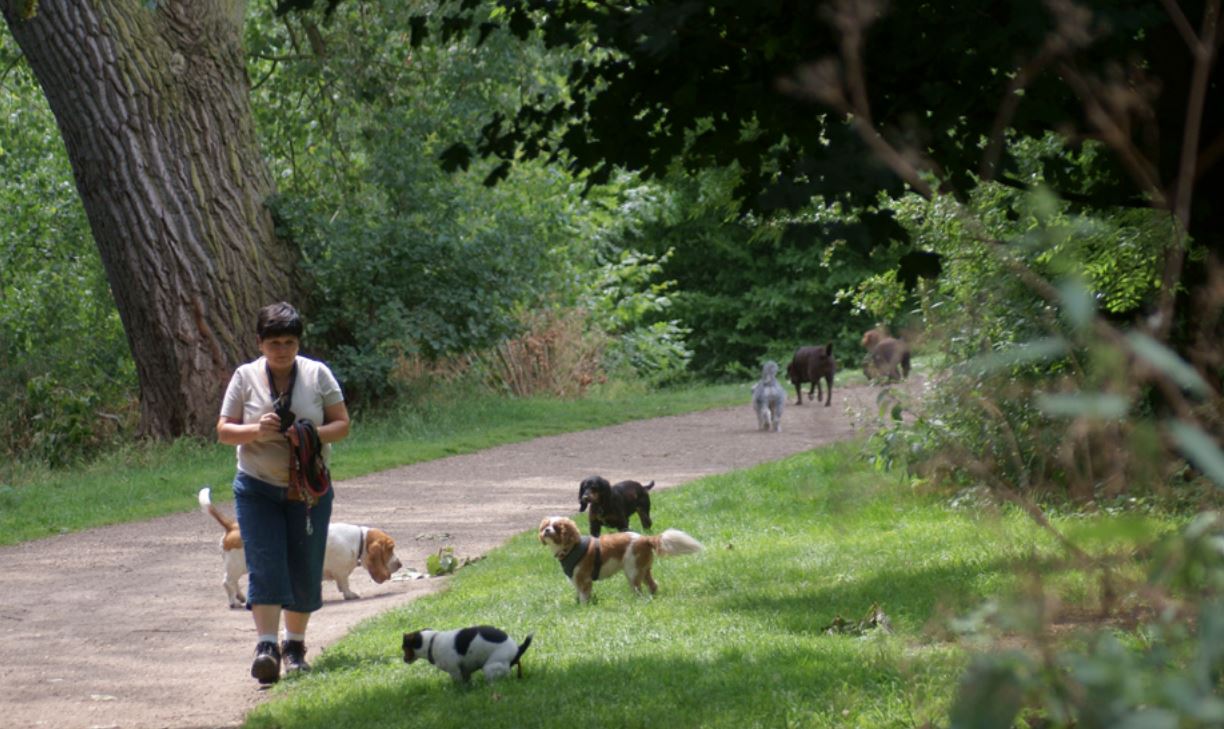 4) Hampstead Health
Hampstead Heath is one of London's most popular open spaces, a registered charity managed and funded by the City of London, and located just six kilometres from Trafalgar Square. Hampstead Heath provides excellent facilities for organised sport; therefore you and pubs are able to stay healthy by doing some exercise together.
Address: City of London, Guildhall, PO Box 270, London, EC2P 2EJ
Time: 9am-6pm
Price: For the park its free, but for the swimming pool it's £15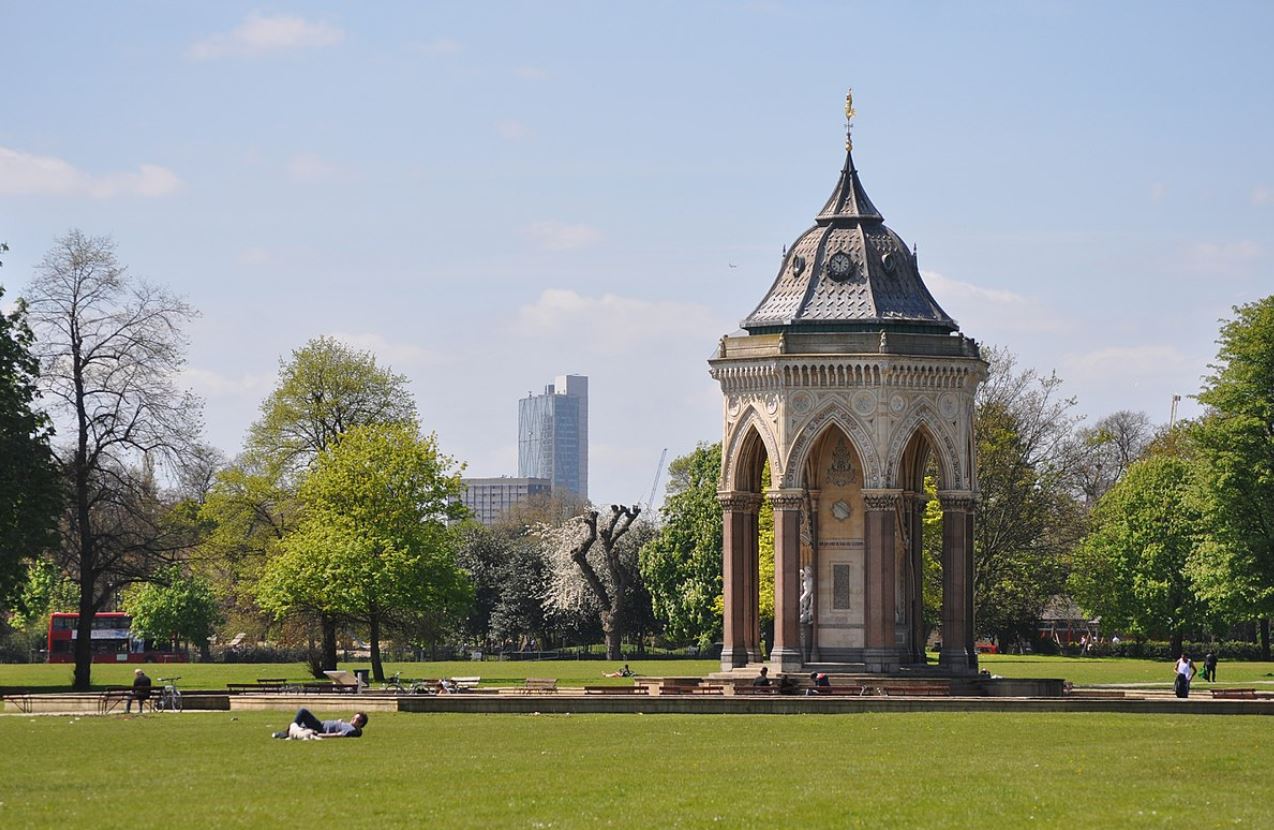 5) Victoria Park
It is a social spot for outgoing canines and their owners alike. It's split into two parts: the western half is landscaped with a fantastic organic lakeside café, boating lake and picnic areas in the summer, while the eastern half is more suitable for dogs and has larger expanses to run on. Be advised to carry a doggie bag though as there's an open-ended children's adventure playground (dogs are not allowed) and plenty of green area given over to sport. Most pubs around the park have outdoor eating areas.
Address: Grove Rd, London E3 5TB, United Kingdom
Time: 24/7
Price: Free of charge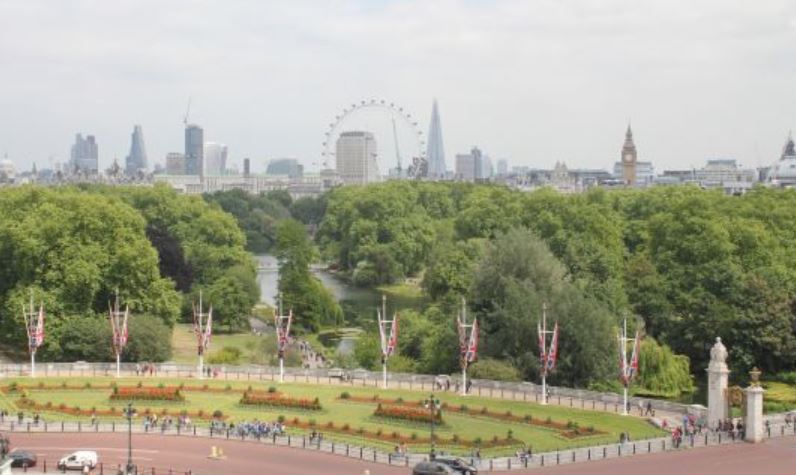 Image Credit: The Royal Park
6) St James Park
Have you watched 101 Dalmatians before? Of course you did. Did you know that a lot of park action in the film was set and filmed in St James's Park. It's the oldest of the capital's eight royal parks and it's another biggie at 23 hectares (57 acres). Surrounded by The Mall, Horse Guards Parade, and Buckingham Palace this gorgeous park is an incredibly spot for walkies. During the spring and summer, you and Fido can watch the changing of the guard in the open area in front of Buckingham Palace at 11:30 A.M. each morning.
Dogs are politely asked to stay on their leads on the footpath around the perimeter of the lake and on the Horse Guards Parade Ground, and they're not allowed in Memorial Gardens in front of Buckingham Palace.
Address: Barrack Rd, Newcastle upon Tyne NE1 4ST, United Kingdom
Time: St James's Park is open from 5am to midnight all year round.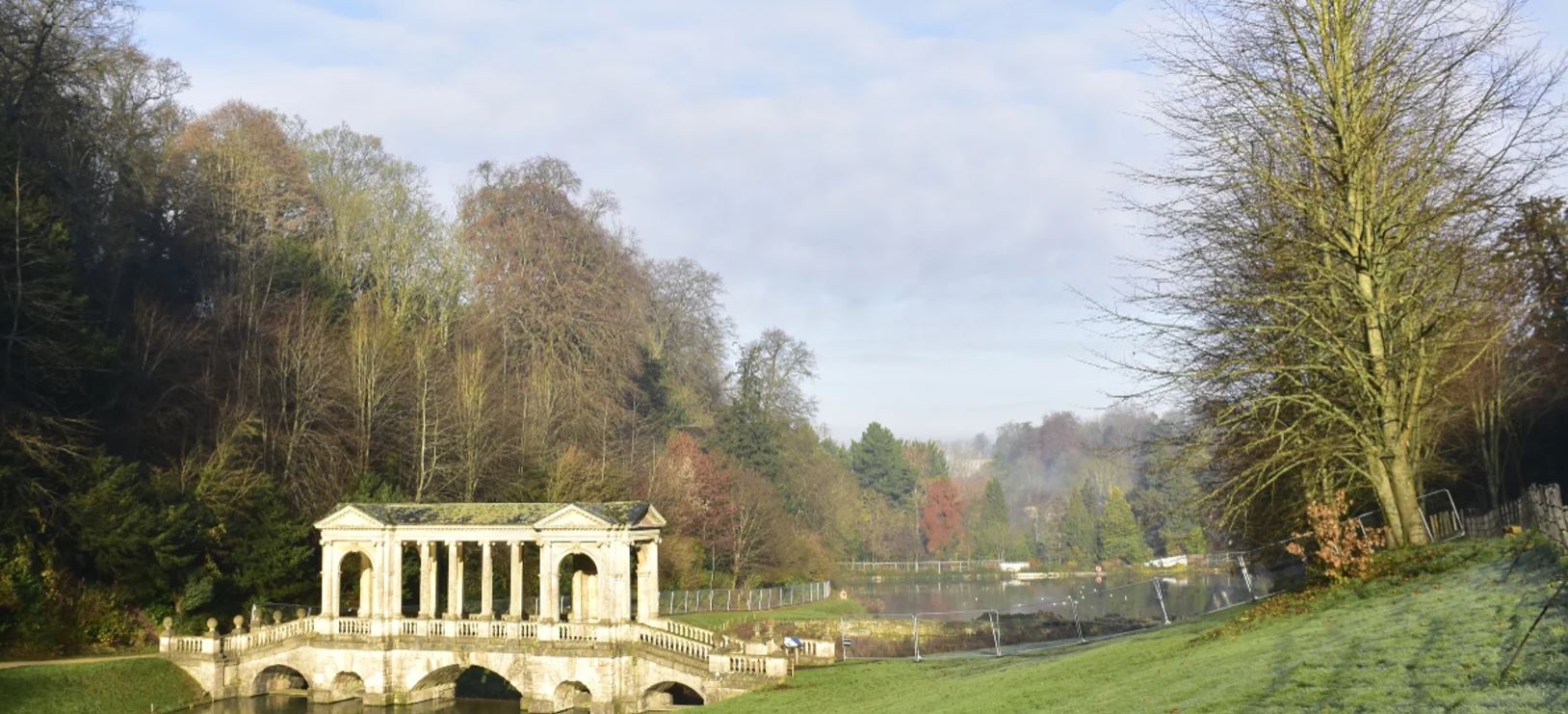 Image Credit: National Trust organization
7) Prior Park Landscape Garden
A famous landscape park with a beautiful Palladian Bridge. Lancelot Brown worked here and, although what he did is not known exactly, it is one of the most perfect examples of the Serpentine Style. You're able to have a picnic with your pubs, as well as strolling him down the hill to enjoy the beautiful scenery.
Address: Ralph Allen Drive, Bath, Somerset, England, BA2 5AH
Time: February to November. Daily, except Tuesdays. December and January open Friday, Saturday and Sunday only. Open 11am to 5.30pm or dusk. Closed 25th and 26th December and 1st January.
Fees: Entrance fee Adult £5.00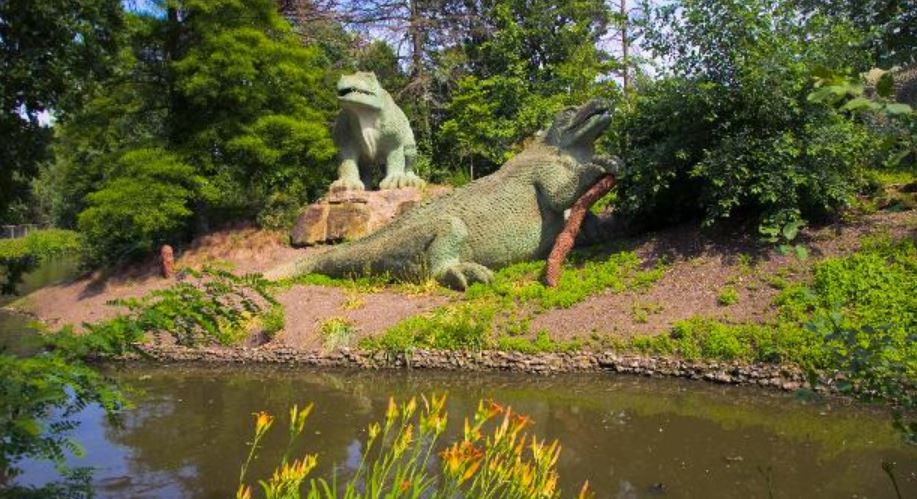 Image Credit: Visit London
8) Crystal Palace Park
It is Situated in South East London, Crystal Palace Park is a welcoming place for all. A place for learning and training, health and well-being, recreation and enjoyment, activities and events. If your dog is having a depression or is not felling happy , perhaps you can bring your dog to this park , because it is relaxing, calm and quiet, you can just bring a book and your dog to relax too.
Location: Thicket Rd, London SE20 8DT, United Kingdom
Opening Times
Monday – Friday: 7.30am
Weekends and Bank Holidays: 9.00am
Week Closing Times (last gate closed)
January: 5.00pm
February: 6.00pm
March: 6.30pm
April: 8.30pm
May: 9.30pm
June: 9.30pm
July: 9.30pm
August: 9.00pm
September: 8.00pm
October: 7.00pm
November: 5.00pm
Activities
Besides reading a book and relaxing, you're able to go for skateboarding as well, Crystal Palace Park sees skateboarding return to one of its historic homes, where the first major UK national skateboarding competition took place in 1977.
Maze
The park's maze is one of the largest in the country, spanning an incredible diameter of 160 feet. It has been bewildering visitors since the 1870s. Featuring towering hedgerows and a confounding network of pathways, the maze is free and open to all.
National Sports Centre
The NSC is in the heart of Crystal Palace Park and has a great selection of activities to offer at affordable prices. The sports centre boasts a modern gym with 120 pieces of equipment, three swimming pools from 50 metres to child friendly, an indoor running track, stadium with two stands and a weightlifting gym.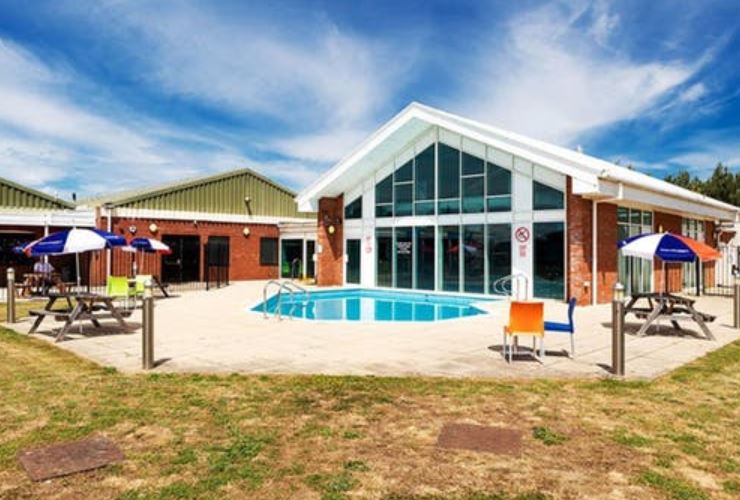 Image Credit: Best Holiday Park
9) Martello Beach Holiday Park
Martello Beach is ideally situated for a fun family holiday by the sea. On the park itself, you'll find plenty of family-friendly facilities including both indoor and outdoor swimming pools, adventure playground, a sports court, plus an entertainment venue with a restaurant and licensed bar etc. Not only that, it is dog friendly as well, you are able to tag along your dogs, it will be a memorable summer indeed.
Address: Belsize Avenue Jaywick, Clacton-on-Sea CO15 2LF, United Kingdom
Price: Approximately £94 per night, prices will depend on the dates as well as room availability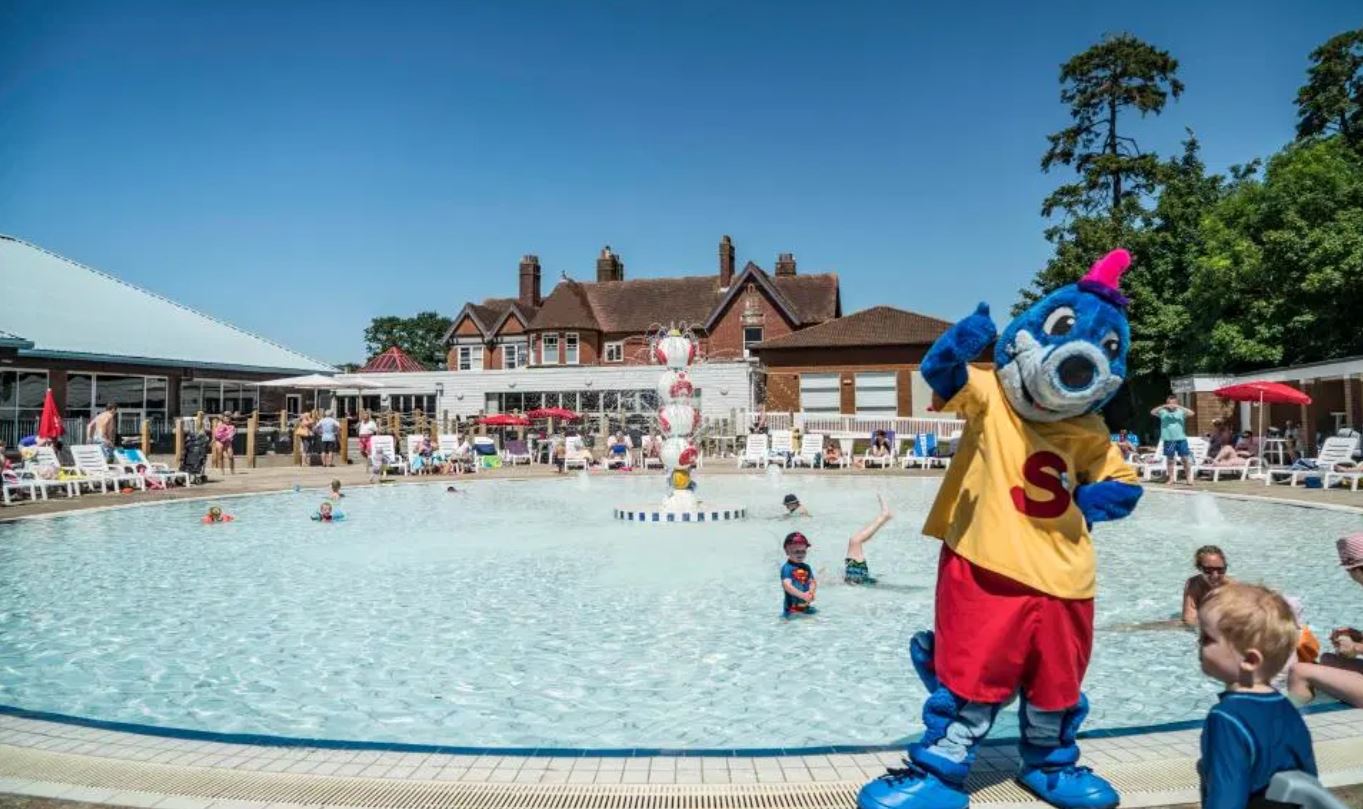 Image Credit: The Sun
10) Hoburne Barshley Holiday Park
Having a long break and have no where to go ? Come pay a visit at Hoburne Barshley Holiday Park, where you and your dogs are able to bond with each other. Suitable for family with children's who wants to bring their dogs along with them.
Location: Sway Rd, New Milton BH25 5QR, United Kingdom
Price: The minimum stay would be 3 nights, therefore for the price of 3 nights + 1 Dog would be £279.90 , approximately £93 per night. There are many accommodation type, such as Apartment, Cabin, Caravan, Chalet and Lodge.
Time: The check in time would be at 3pm and check out time would be at 10am.
Activities
There are many activities that you can do with your pubs , such as freeze bee , swimming pool , strolling around , meeting new friends, having a campfire or BBQ night. For adults there is a 9 hole golf course, entertainment and events, heated pool, outdoor adventure playground, tennis court and a sauna and steam room etc.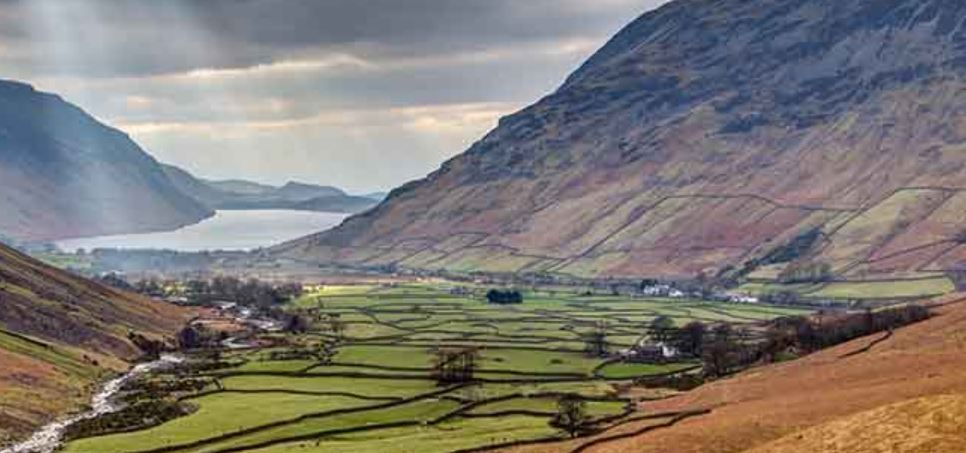 Image Credit: Lake District National Park
11) Lake District National Park
Lake District National is England's largest National Park and is now a World Heritage Site, home to Scafell Pike - its highest mountain, Wastwater - its deepest lake and thriving communities like Keswick and Bowness-on-Windermere.
Address: northwest corner of England, in the county of Cumbria

Accommodations
For those who would like to stay a night or two at Lake District, you are welcome to . They provide different types of accommodations for you to choose from such as hotels, cottages, camping sites, luxury hotels, country house hotels, country inns and many more.
Price
Price will be based on the seasons and as well as the availability of rooms
Hotels - £300-600
Cottages- £200-300
Camping sites- Free
Luxury Hotel - £400-800
Country Inns – £50-100
Activities
Steamers and boat cruises
Taking a cruise is a great way to experience the beautiful Lake District views. Combining a one-way cruise with a bus, walk or cycle can be a great way to travel around a lake in a day. There will be multiple stops, such as Windermere, Ullswater, Coniston, Derwentwater
Walking in the Lake District
Walking in the Lake District is one of the methods that you can enjoy the beautiful scenery. The abundance of dog friendly campsites in the Lake District make it a fantastic destination for dog owners and their four-legged friends. But bear in mind that there are some safety precautions that you need to read before you start walking .

Image Credit : Northumberland National Park
12) Northumberland National Park
Northumberland Park is home to England's cleanest rivers, clearest air, the darkest skies and The Sill: National Landscape Discovery Centre.
Address: Northumberland National Park, United Kingdom
Activities
Take a relaxing stroll to walk off that tasty pub lunch or stride out on a long-distance moorland trail across Northumberland National Park, the choice is yours.
Star Gazing
Northumberland is known for it's darkest skies, therefore you can enjoy the star gazing with your pubs at night, it will definitely be a memorable night.
Waterfall
You can pay a visit to Hareshaw Linn and take a magical walk through an ancient woodland, crossing no less than six bridges to reach a beautiful nine-metre high waterfall. If you are an adventurous person, you are able to see more than 300 different types of mosses, liverworts and lichen can be found at Hareshaw Linn. The oak, hazel, elm and ash trees that grow here are great for wildlife. Keep a look out for red squirrels, great spotted woodpeckers, wood warblers, spotted flycatchers, badgers and Daubenton's bats.
Accommodation
YHA The Sill at Hadrian's Wall
Is the brand new Youth Hostel at The Sill. Ideally located in the beautiful countryside of the National Park, this high spec hostel is perfect for exploring the Hadrian's Wall World Heritage site, located just a few hundred metres away. It will be at a price of £50 per night.
National Parks and Sykes Holiday Cottages
Staying longer in a holiday cottage means you can truly immerse yourself in these special places. The price will be £55-60 per night.
Campsite
You are able to enjoy staying at a camp as well, there is a campsite being provided
Price: It is free of charge for the sites.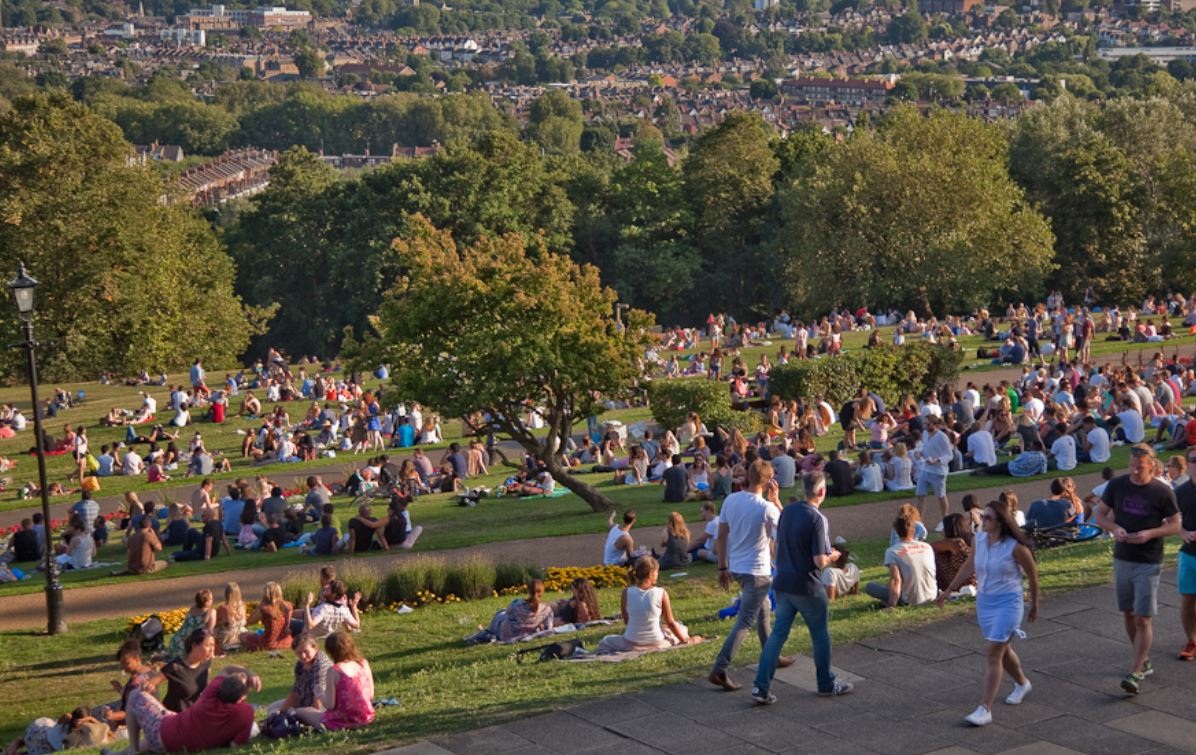 Image Credit: Alexandra Palace
13) Alexandra Palace
Alexandra Park has been offering people an escape from busy city life since 1863. And nowadays, its 196 acres are enjoyed by millions of visitors each year. This 80 hectare (196 acre) parkland provides dog walkers with a mixture of woodland and open grassland, with ornamental gardens and a boating lake to admire on their way around.
Address: Alexandra Palace Way, London N22 7AY, United Kingdom

Opening Times
East Court
Monday to Sunday 09:00 – 17:00
(closing time may vary dependent on events)
CAR PARKS (NON-EVENT DAYS)
East Car Park 05:00 – 00:00 (midnight)
Grove Car Park 05:00 – 18:00
Activities
If you like something exciting, you can go for a game called "Go Ape". This custom built, triple-tiered hub is the ultimate test of balance and nerve. Featuring challenging obstacles at increasing heights, a free-fall Tarzan Swing and a 46ft sheer drop called The Plummet.
Alexandra Palace Garden Centre
Pay a visit at The Garden Centre at Alexandra Palace is conveniently perched on the south side of the park. Regarded as one of the capital's best garden centres it is also one of the largest in London.
Accommodation
Within this park there's no accommodations being provided, but here are some hotels/ guest house that is near the park and it is dog friendly
Charlotte Guest House
It is located at Sumatra Rd, West Hampstead, London NW6 1PF, United Kingdom, breakfast is provided, and it is £50-60 per night
Mondrian Apartments
It is a 4 star hotel located at 105a Seven Sisters Rd, Finsbury Park, London N7 7QP, United Kingdom. Multicultural area with international shops & cafes, plus summer festivals in leafy Finsbury Park.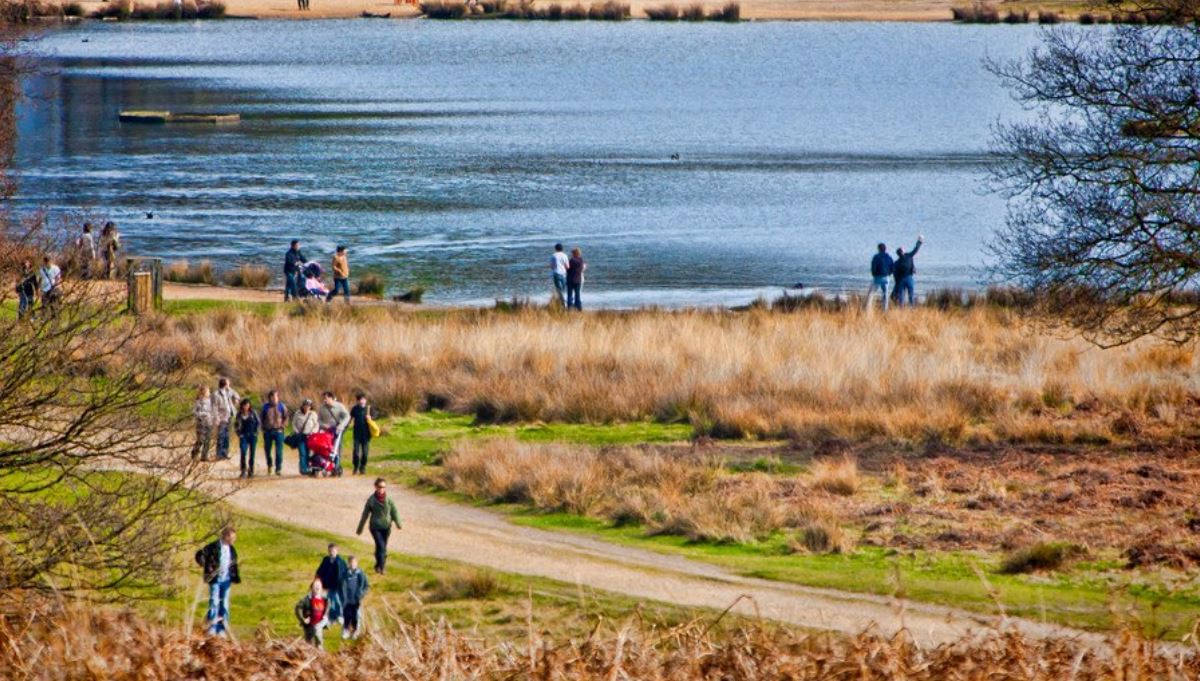 14) Richmond Park
Richmond Park is the biggest royal park in London (a staggering 2,500 acres to get lost in) and has been a royal hunting enclosure since the 13th century. It is still home to shoals of red and fallow deer and boasts some fantastic oak trees. You can let the dog off the leash to run amok but are expected to be able to prevent them from chasing the deer. Dogs are allowed here on the lead
Address: Richmond, United Kingdom
Time: 24hours for the pedestrian gate
Price: It is free of charge.

Image Credit: Cotsworld Wildlife Park
15) Cotswold Wildlife Park and Gardens
Cotswold Wildlife Park consist over 260 different animal species in 160 acres of parkland and gardens, with train , adventure playground, cafe and gift shop. Not only you can bring your Fido just for a walk, at the same you and your pubs are able to see different types of species, and who knows, that your pub might meet a new friend that's a different species.
Address: Bradwell Grove, Burford OX18 4JP, United Kingdom

Opening Time
Time: April to October 10am-6pm (4pm last admission)
November to March 10am- Dusk or 5pm (3pm last admission)
Activities
There are many fun activities that you can take into consideration with your pubs, such as the adventure playground and "sky maze", it has interconnecting treehouses with jungle bridges and slides, climbing to a bird's eye view of the park over 20 feet high!
[blockquote font="3"]Bear in mind dogs may not be taken indoors or Bat House, Children's Farmyard or any area with free roaming animals. Dogs are not allowed in restaurant and gift as well.[/blockquote]

The above are the top 15 dog parks that you and your pubs can visit with. If you have any other park suggestions, please feel free to leave a comment below.